Tennis teaching course for children in Ho Chi Minh City at Saigon Tennis teaching center. Coming to tennis classes for children, children will learn all the correct tennis skills and techniques. This helps improve mental and physical health. Helps children become smarter and faster in communication.
Tennis Saigon is currently the most prestigious tennis teaching center in Ho Chi Minh City. The center is always enrolling tennis classes for children. 15% discount when registering from 3 people .
Bạn Đang Xem: Tennis training course for children
Contact Hotline: 0762 319 319 to register for a tennis course for children in Ho Chi Minh today.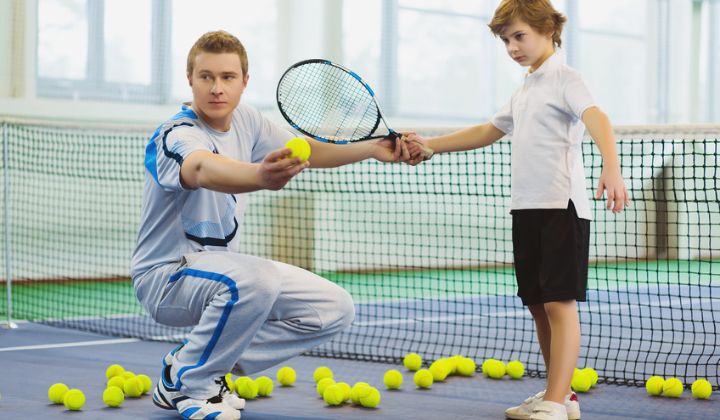 Xem Thêm : Khoá học tennis cấp tốc
In addition, you can also be proactive about the time and place to learn tennis in Ho Chi Minh City for your children. Not constrained. It is possible to make up for another class session if the student has an unexpected break from work.
Learn with a professional tennis coach. Thoroughly trained at sports universities, teachers are athletes

Dynamic & enthusiastic coach

The center commits to 

100% KNOWING TO FIGHT

 right after the course

With a clear understanding of 

tennis knowledge

 , teachers will give more specific advice on nutrition during the tennis teaching course for children in Ho Chi Minh City.
Information on tennis classes for children in Ho Chi Minh City 
1 on 1 with a coach

Time and location are at the initiative of the student

The course lasts 15 sessions

Each lesson is 60 minutes

Commit to 100% KNOWLEDGE immediately after the course
Tennis tuition for children: 7,000,000 VND.
Note: Tuition fees do not include practice field rental fees.

Tư vấn học bơi và đăng ký học bơi tại HCM, vui lòng liên hệ: Hotline: 0762.319.319 hoặc Facebook: /swimtobelive
  Before participating in the tennis teaching course for children in Ho Chi Minh City. Parents need to equip shoes, pants, shirts, drinking water, tennis rackets (if there is no tennis racket for the child, Saigon Tennis teaching center will support)…Other tools such as tennis balls and some support tools For children's tennis classes, the center is already equipped.
5 benefits of letting your child learn to play tennis today
1. Less prone to injury
In recent years, contact sports have begun to cause more injuries. As for tennis, the occurrence of injuries is very rare. Especially young children have been participating in this sport of tennis for many years. as well as choosing a reputable tennis training center.
2. Physical development
Xem Thêm : Ho Chi Minh City Tennis Court
Playing tennis is a great way to help children develop physically. Lots of movement on the field and using the whole body. Therefore, developing the body's muscles is indispensable in tennis teaching courses for children. Combined with strengthening the cardiovascular system. Tennis is nothing less than a super health booster for the body.
3. Spiritual development 
According to research from scientists. Tennis requires alertness and strategic thinking. It can create connections between nerves in the brain. Thus promoting the continuous development of the brain. Tennis courses for children are also effective for mastering motor skills and hand-eye coordination.
4. Enhance immunity 
By improving physical strength, flexibility, balance and fine motor skills. Tennis will help your child master other activities off the court. One thing is better, by keeping your health and body healthy. Tennis classes for children in Ho Chi Minh City also help children have a stronger immune system. To help fight germs in schoolyards and flu season.
5. Better social communication
Letting children learn to play tennis also helps them develop a spirit of sportsmanship, teamwork, and closeness with friends of the same age. In addition, fresh air will not harm the child's body.
Register for a tennis teaching course for children in Ho Chi Minh City 
Phone number:

 0762 319 319

Email: Trungtamtennissaigon@gmail.com

Address:

 5th Floor, Building 132 – 134 Dien Bien Phu – Da Kao Ward – District 1 – Ho Chi Minh City

Wedsite: https://tennissaigon.com/